An adventurous story of a real Hussite who will tell you the tale of his life – the life of a Warrior of God. About what he experienced, what he believed in, what he fought for, and who he loved. And how he in the end found the Kingdom of Heaven in the eyes of his beloved.

Appropriate age 8 years or older
Duration 1h 40 minutes including intermission
Premiere 7 February, 2016
Water. Fire. Earth. Air. Plants. Animals. People. But how is all this connected? Finding our way in the world around us is not easy even for adults, not to mention for little ones! What happens when it rains from a cloud, how do plants grow together, what is the relation between a stork, frog and chameleon, and many other remarkable phenomena will be introduced to children by three mimes playfully, without words, and through motion.

By the way, one of the mimes and the director of this performance is one of the most accomplished mimes of today, Radim Vizvary.

Appropriate age 4 years or older
Duration 45 minutes without intermission
Premiere May 16, 2017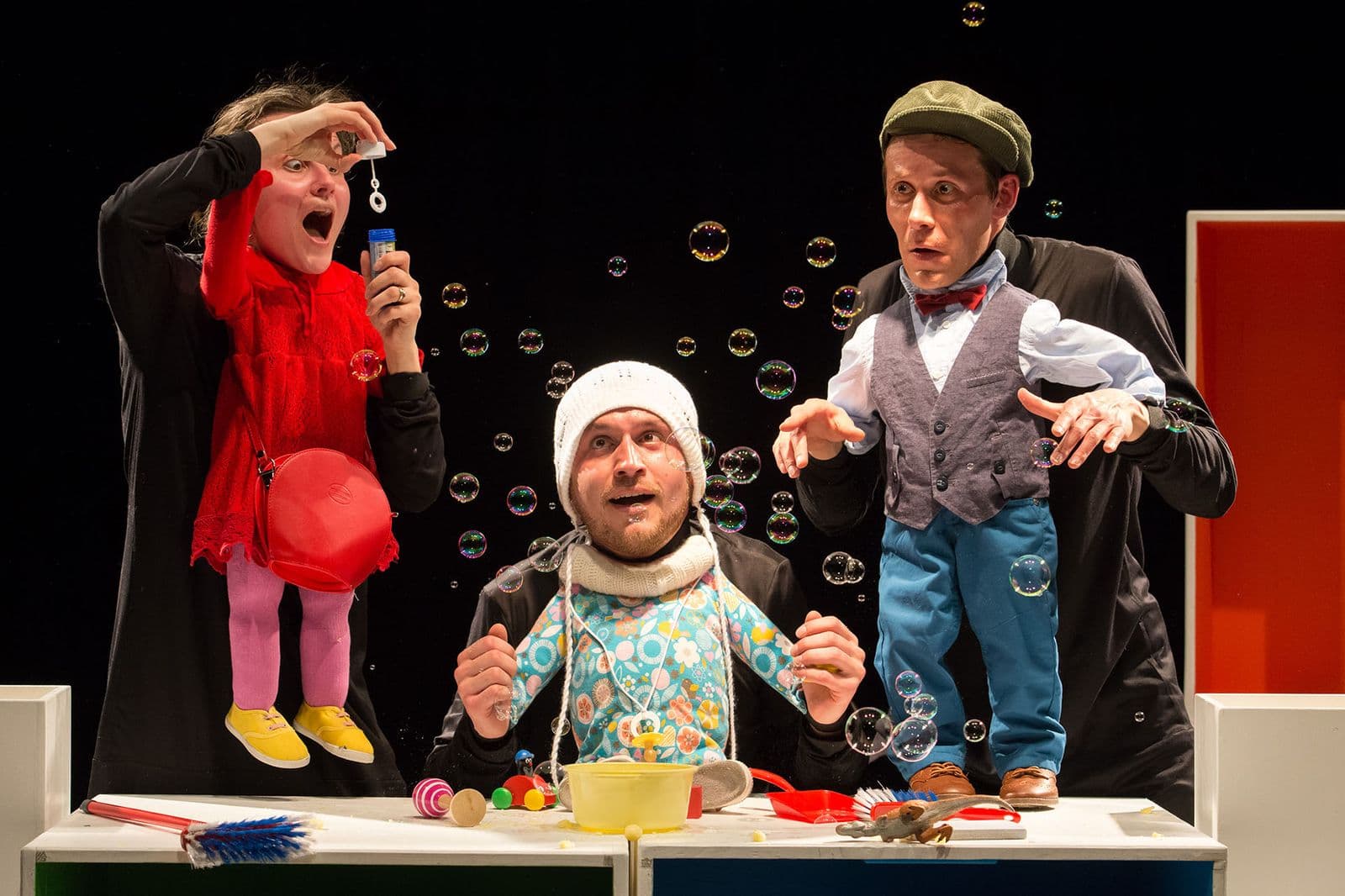 Thirty thousand spectators shouted this name in Helsinki in 1952 as he ran into the stadium as the first runner in a marathon run to win his third long-distance gold medal. Everyone around the world is able to run, but only he managed to run to win three times at one Olympic Games. 5km. 10km. Marathon. Nobody before or after could do that as long as the world exists. It is quite possible that nobody would be able to do it again. How interesting is it? How interesting is that person? How interesting is the time period in which he lived?

Recommended to viewers of 8 years of age and older
Duration 1 hour 30 minutes including the intermission Premiere 6 October, 2019.
When Sheriff of Nottingham had the roof above Robin's head taken away, just because, he had no idea what this would cause. When Robin met Marianne he knew she was the one. Such a love can only come once. A rusty squeak at the castle, the Sherwood forest is dark, something is up, something is about to happen…

A popular story of injustice, courage and love brought to you by the dancing and singing Minor gang and directed by Lenka Vagnerová. 

Who would have thought that I'd fall for a girl from a castle
but I am on my knees, I confess
beaten by a lass
and alas
time without her does not want to pass.

Who would have thought a lad from the woods would catch
my eye
but I admit all I want is to be with him
as strange as it may seem
and alas
that in the middle of the night he will come to me, I dream.

Appropriate age 8 years or older
Duration 1h 10 minutes without intermission
Premiere 20 September, 2015

Foglar's legendary stories come to life again! On the Other Side a mysterious drawing of a conundrum appears on a chipped wall. Who painted it there and why? Rapid Arrows decide to cross the Dividing  Avenue and venture into the dark Shades to puzzle out the mystery. What will they discover, you wonder? Let's join them for the adventurous and dangerous journey to uncover many secrets. Who was the mysterious Jan Tleskač? Will Rapid Arrows manage to get the blue print of his peculiar invention? Will they reveal the identity of the masked figure? And who will be elected as the High Vont? These are only a few of the many questions that are yet again waiting to be answered.

Premiere 15 October, 2017
Appropriate age 8 years or older
Duration 2h including intermission
We are presenting a new original production of our friend director Jiří Jelínek inspired by travelling and the frequent, maybe in fact the most repeated question connected with travelling, the one that will inevitably come the minute you put your child into its car seat, close the door and start the car… Mom, are we there yet?

Will mommy trick the children by her stories about a bollard, windshield wipers and the steering wheel, to make them last the journey? Starring Lenka Volfová. For big klutzes as well as small clumsy bumpers.

Following the productions Konžert, Agnes Wants to Dance, and Hum (For the Smallest Bears), Mom, Are We There Yet? is the fourth director's work of Jiří Jelínek for Theatre Minor.

Appropriate age 3 years or older
Duration 45 minutes without intermission
Premiere 15 March, 2015
Foglar's legendary stories come to life again! On the Other Side a mysterious drawing of a conundrum appears on a chipped wall. Who painted it there and why? Rapid Arrows decide to cross the Dividing  Avenue and venture into the dark Shades to puzzle out the mystery. What will they discover, you wonder? Let's join them for the adventurous and dangerous journey to uncover many secrets. Who was the mysterious Jan Tleskač? Will Rapid Arrows manage to get the blue print of his peculiar invention? Will they reveal the identity of the masked figure? And who will be elected as the High Vont? These are only a few of the many questions that are yet again waiting to be answered.

Premiere 15 October, 2017
Appropriate age 8 years or older
Duration 2h including intermission
The main character is Mr. Jednorozec, it means the Unicorn in Czech. He was innocent, yet he got rid of liberty and imprisoned, so he decided to escape. And then began the manhunt (the Unicornhunt if you wish) who gallops alone through wild landscapes, conquering various pitfalls of fate and snares of his enemy. On his way to freedom he meets a villain and a liar Slepička, for a moment Jednorozec finds his family and finally his love, Olinka. Around him slowly tightens the loop… But our brave Jednorozec runs away!

Musical and artistic production created in collaboration with the civic association Post Bellum in occasion of the 20th anniversary of the the Iron Curtain downfall.

Dalibor Mucha and Tomáš Vychytil won a prize for the music at the festival Skupa´s Pilsen 2010.

Appropriate age 10 years or older
Duration 65 minutes without intermission
Premiere 15 November, 2009
The main character is Mr. Jednorozec, it means the Unicorn in Czech. He was innocent, yet he got rid of liberty and imprisoned, so he decided to escape. And then began the manhunt (the Unicornhunt if you wish) who gallops alone through wild landscapes, conquering various pitfalls of fate and snares of his enemy. On his way to freedom he meets a villain and a liar Slepička, for a moment Jednorozec finds his family and finally his love, Olinka. Around him slowly tightens the loop… But our brave Jednorozec runs away!

Musical and artistic production created in collaboration with the civic association Post Bellum in occasion of the 20th anniversary of the the Iron Curtain downfall.

Dalibor Mucha and Tomáš Vychytil won a prize for the music at the festival Skupa´s Pilsen 2010.

Appropriate age 10 years or older
Duration 65 minutes without intermission
Premiere 15 November, 2009
How to communicate without words? What do rhythm, light, and sound have in common? For 60 minutes ten funny, white creatures teach the audience that using sound and rhythm is pure pleasure. They draw spectators into their world, showing gradually more and more beatiful images from their life. In Libozvuky, reality devoid of speech is friendly and amusing. Each scene has something that would suprise the public, encouraging them to interact.

Appropriate age 5 years or older
Duration 50 minutes without intermission
Premiere 12 April, 2015
The legendary Czech prince Bruncvik after the death of his father decides to go into the world and enhance their coat of arms of a new a character, the lion. He wants to earn it just like a brave knight. He experiences many adventures, rescues the lion, who accompanies him from now on. In the wide world our prince resists seductress Africa and gets the sword which decapitates his enemies on command. He does not hesitate to use it for their freedom. When returning home, Bruncvik finds that seven years had passed and his beautiful Neomenie celebrates a wedding …

Medieval heroic epic story that first appeared in about the 14th century, is known from the Old Czech Legends interpreted by Alois Jirásek (Staré pověsti české).The production was part of the international theatre project "Cultural Alchemy", supported by the Fund of the European Union Culture 2000.

At the 27th annual festival of Czech professional puppet theatre productions Skupa´s Pilsen won this piece four awards: Filip Jevič the Best Actor Dalibor Mucha and Tomáš Vychytil for music, Petra Zámečníková and Jan Jirků for an original dramaturgical concept, Robert Smolík for Art Direction (also honoured for his design of the production Tibet by the theatre group Cakes and Puppets)

Appropriate age 7 years or older
Duration 60 minutes without intermission
Premiere 30 April, 2006